AGL Energy interim chief executive Graeme Hunt says an innovative solar thermal project envisaged for the Liddell site in NSW is an example of the repurposing of baseload coal sites expected at its PrimeCo business as it gradually pivots towards lower-carbon energy.
AGL and partner RayGen have begun construction of a $27 million project involving the technology at Carwarp in north-western Victoria, building on an alliance first announced in 2019 that has now secured extra support from the Australian Renewable Energy Agency.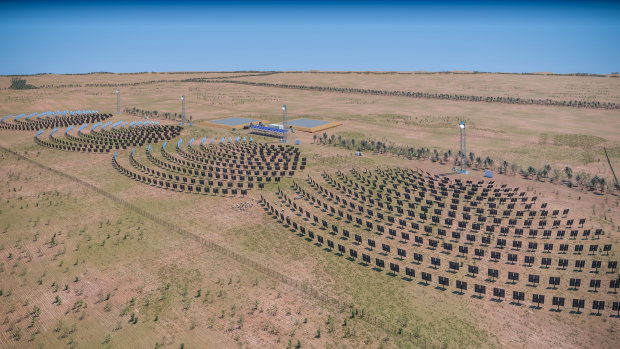 The second stage of the project envisages an installation at Liddell in the NSW Hunter Valley, where the coal power station will shut in 2023.
"This is is a proof point of some of the things we've been working on for some time that will form part of the future energy transition for AGL," Mr Hunt, who stepped in after Brett Redman abruptly exited as CEO in April, told The Australian Financial Review.
Although the details of AGL's proposed demerger are only due by the end of this month, Mr Hunt said this sort of venture at an AGL site would likely be part of PrimeCo, rather than the New AGL business housing retailing and firmed renewables.
"For things that are on the land where PrimeCo will continue to have thermal generation for some time to come yet it is most likely that PrimeCo will be the participant in the project," he said.
The venture with RayGen involves concentrated solar and thermal storage and is expected by AGL to be one of the country's largest and lowest-cost renewable energy storage projects. It involves a field of "smart" mirrors from which energy and heat are collected to be stored across two water reservoirs. The 90-degree difference in temperature between the reservoirs is then used to drive an engine to produce power.
The Carwarp plant near Mildura, backed by $5 million from AGL and $15 million from ARENA, will have a capacity of 4 megawatts of generation and 50 megawatt-hours of storage to produce electricity on demand. The ARENA funding builds on a $3 million grant last year for feasibility studies.
Federal Energy Minister Angus Taylor said the Morrison government was committed to developing new low-emissions technologies.
"With one in four Australian homes having solar, making sure our solar assets are backed up by dispatchable generation is vital for energy grid stability and shoring up our long-term supply," he said.
The "solar hydro" facility at Carwarp will be able to generate on demand and provide up to 17 hours of energy storage. Mr Taylor said RayGen's technology could be scaled up to a 100 MW project which would be crucial to provide more dispatchable power into the grid.
ARENA chief executive Darren Miller said RayGen's technology would help address Australia's emerging needs for longer duration storage.
The agency said the project could also provide frequency control services once operational.
"RayGen's technology has many benefits for the energy market as we continue the energy system transformation being driven by renewables," Mr Miller said.
"Much like combining pumped hydro and a traditional solar farm, RayGen's technology can provide longer duration firming for renewable energy generation. We are particularly interested in the potential for RayGen's technology to deliver firmed renewable energy at a very competitive cost."
Longer duration energy storage is a key priority under the federal government"s Technology Investment Roadmap – with the goal of providing reliable, firmed renewable energy at costs under $100 per MWh.