The Australian Renewable Energy Agency (ARENA) reports a strong response from industry and investors on concentrated solar thermal (CST).
This follows ARENA's call for information from industry, solar manufacturers and green energy investors about CST.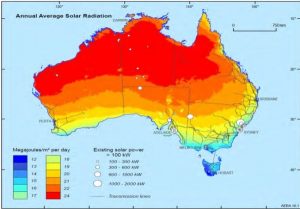 The call ended on 31 July, and ARENA is now evaluating responses to see how ready we are to embrace this advanced technology.
Concentrated solar thermal uses mirrors to concentrate heat which is stored in tanks of molten salt. The technology is not yet regarded as cost-effective for widespread use in Australia.
However, its powerful qualities and great storage capability hold "plenty of promise" for the future. That's according to ARENA Chief Executive Ivor Frischknecht.
"This is where the Commonwealth through ARENA needs to provide support in trying to drive down the cost," Mr Frischknecht says.
The importance of concentrated solar thermal
CST technology is not a new concept. CST involves capturing sunlight via mirrors and concentrating it into a small area to make heat.
The heat makes high pressure steam, similar to a coal fired station with a steam turbine. But instead of using the coal as the fuel, the system uses the sun.
Heat is then stored in tanks filled with molten salt and can be later converted to electricity for use.
The Government's role in concentrated solar thermal
In the May 2017 budget, the Federal Government made up to $110 million available for equity investment. This is designed to secure delivery of a CST project in Port Augusta, South Australia.
However, ARENA is looking to develop concentrated solar projects through funded research and development, finding more efficient ways to run a CST system.
"That sort of investment has worked really well with large scale PV solar farms," Mr Frischknecht said.
"Going back a few years they were ridiculously uncompetitive with wind energy, but through ARENA supporting a number of projects it has really driven costs down."
Energy Matters