Australian CSP developer Vast Solar is seeking A$75 million ($53.1 million) of financing for a A$240 million hybrid CSP-PV plant in New South Wales, according to reports.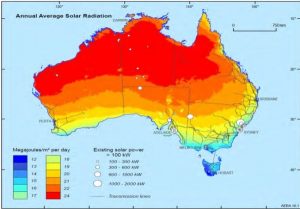 Vast Solar is planning to build a 50 MW plant consisting of 30 MW of modular CSP tower capacity with 10 hours of molten salt energy storage capacity, and 20 MW of PV capacity.
The company has applied to the federal government's new Underwriting New Generation Investments (UNGI) program, which aims to support firm electricity supply on a technology-neutral basis.
  Australia quarterly power futures by region
(Click image to enlarge)

Source: Australian Energy Regulator
Vast Solar's CSP design uses liquid sodium as heat transfer fluid (HTF) and features multiple small towers, allowing scalable arrays.
Vast Solar has already built a 1.1 MWe pilot plant in Jemalong, New South Wales.
The $10.1 million pilot plant consists of five modules and incorporate three hours of storage. The Australian Renewable Energy Agency (ARENA) provided $4.99 million to the project.
Steel suppliers sign deals for Dubai's Noor Energy 1
Saudi Arabia's Al Yamamah Steel Industries has signed a $106.7 million contract with Spain's Europea de Construcciones Metalicas to supply steel CSP structures to ACWA Power's 950 MW Noor Energy 1 plant in Dubai, according to local news reports.
Separately, ArcelorMittal Projects announced on social media that its Chinese Solar Projects team signed a contract with Shanghai Electric and BrightSource Solar to supply 100 MW of steel structures for the CSP tower section.
The $4.4 billion Noor Energy 1 project includes three 200 MW parabolic trough systems supplied by Spain's Abengoa, a 100 MW central tower plant supplied by U.S. developer BrightSource and 250 MW of PV capacity.
China's Shanghai Electric Corporation (SEC) is the lead EPC Contractor for the project, which will host 15 hours of molten salt CSP storage capacity and be brought online in phases in 2020-2022.
Under its new contract, Al Yamamah Steel will deliver steel products from September for a 26-month period, which may be extended. The components will be used for the tracking systems on the CSP section of the plant, according to the Thomson Reuters Zawya news service.
New Energy Update
newenergyupdate.com/csp-today