Joint venture combines BrightSource's advanced Concentrated Solar Power (CSP) technology with Shanghai Electric's leading equipment manufacturing and EPC services.
The joint venture will construct two 135 MW plants as part of the first phase of the Qinghai Delingha Solar Thermal Power Generation Project.
The scheme will eventually be made up of six CSP tower plants in the Qinghai province, with work slated to start in 2015.
BrightSource Energy, Inc., a leading US concentrating solar power technology (CSP) company and Shanghai Electric Group Co., Ltd (SEC) announced the companies have signed an agreement forming a joint venture for building utility-scale CSP plants in China. Under the agreement, the joint venture will leverage both partners' contributions to provide engineering, procurement and construction (EPC) services for projects featuring BrightSource's solar power tower technology in China. The joint venture's first proposal is for the construction of two 135 megawatt (MW) CSP plants as part of the first phase of the Qinghai Delingha Solar Thermal Power Generation Project, of which the majority owner is Huanghe Hydropower Development Co., Ltd (Huanghe), a subsidiary of the China Power Investment Corporation (CPI). The announcement was made yesterday in a signing ceremony witnessed by Deputy Secretary of Commerce Bruce H. Andrews during the Asia-Pacific Economic Cooperation Summit (APEC) in Beijing, China.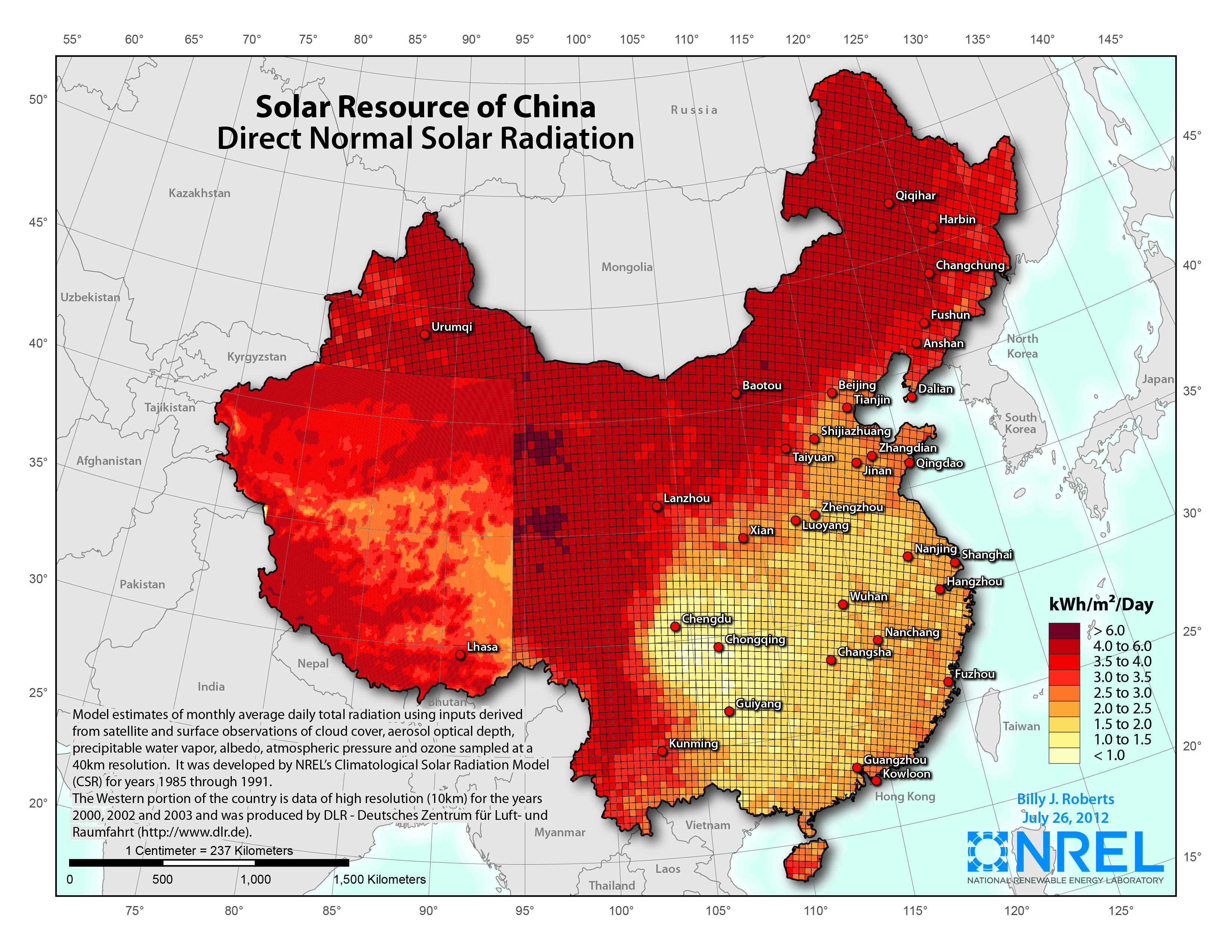 "Concentrated solar thermal power with integrated thermal energy storage is a cost effective way to bring reliable, dispatchable renewable energy to the grid today," said David Ramm, CEO of BrightSource Energy. "By partnering with Shanghai Electric we will deploy our best-in-class solar thermal technology to help China meet its growing energy needs and emissions-reduction goals."
The proposed Qinghai Delingha Solar Thermal Power Generation Project is to be located in China's Qinghai province and is planned for six 135 MW CSP tower plants. The first phase will include two 135 MW solar thermal plants with thermal energy storage. Construction of the first two plants is expected to begin in 2015 and be completed in 2017.
"SEC and BrightSource will fully cooperate by establishing the Joint Venture and forming a consortium to undertake an EPC general wrap to ensure success of the project," said Mr. Bi Chengye, General Manager of SEC's CSP Division. "This will also benefit development of the future CSP market in China. As China's economy develops and its environment improves, developing renewable energy will be the number one choice. As the cleanest and most environmental-friendly power generation method so far, CSP faces two challenges in its commercial takeoff: one is reliability of technology and the other is its current relatively high construction cost. BrightSource's CSP technology has been successfully applied in their Ivanpah project and has shown good stability in commercial operation. SEC, as the contractor and major equipment supplier to the project can help solve the difficult management issues during construction in China so as to control the total cost. We strongly believe that establishment and efficient operation of the SEC and BrightSource Joint Venture will provide quality service for the owner Huanghe, and ensure success of the project."
A feasibility study for the first phase of the Delingha project has been completed and is going to be reviewed by the Expert Panel appointed by Huanghe and the Qinghai Province Development and Reform Commission (DRC). Pending the Qinghai DRC's approval based on recommendations from the Expert Panel, the National Development and Reform Commission will also approve and recommend a tariff for the project's first phase.
BrightSource and SEC have submitted a proposal to Huanghe Hydropower Development Co., Ltd (Huanghe) for the construction of the first phase. As part of the proposal, BrightSource and SEC provided a term sheet with Huanghe regarding the proposed EPC services, which is subject to Chinese regulations and approval by Huanghe and its higher authority China Power Investment Corporation.
Executives from BrightSource, SEC and Huanghe signed the joint venture agreement and EPC term sheet which was witnessed by senior representatives from the U.S. government, including the U.S. Deputy Secretary of Commerce Bruce H. Andrews. APEC was selected as the venue because it focuses on addressing both the region's economic and environmental challenges by speeding the transition toward a global low-carbon economy in a way that enhances energy security and creates new sources of economic growth and employment.
Yesterday's agreements build on BrightSource's Memorandums of Understanding (MOUs) with CPI and CPI's subsidiary, Huanghe, for BrightSource to be the technology supplier for the first commercial scale CSP project in China as part of the U.S.-China Framework for the Ten-Year Cooperation on Energy and Environment. BrightSource was selected based on its experience with the development of the Ivanpah Solar Electric Generating System in California.
In addition to working with Huanghe of CPI and SEC, BrightSource is cooperating with the China Renewable Energy Engineering Institute on issues regarding efficient utilization and development of solar power in China. BrightSource is leveraging its experience with Ivanpah to jointly promote technology advancement and project development for China's burgeoning CSP industry.
"This joint venture is an important milestone for BrightSource as we progress to become a global technology provider that also offers development support and engineering and operational services," added Ramm. BrightSource is the world's premiere concentrating solar power technology provider. BrightSource's solar field and solar receiver technology is featured at the world's largest operating solar thermal power plant, the 392 MW Ivanpah Electric Generating Station. Built in partnership with NRG Energy and Google, Ivanpah began commercial operation in 2013 and provides clean, reliable energy to over 140,000 California homes. Additionally, a 29 MW thermal facility using BrightSource technology is in its third year of operation for Chevron Corp.'s enhanced oil recovery efforts in Coalinga, Calif.
BrightSource Energy, Inc. designs, develops and sells solar thermal power systems that deliver reliable clean energy to utilities and industrial companies.
Shanghai Electric, a large scale power equipment manufacturing corporation group, has been world's No. 1 in market shares for 10 years in a run with its strengths in power equipment manufacturing, EPC general wrap and after sale services. Having been committed to sustainable development strategy, SEC has made great efforts in developing renewable energy equipment and serving for green energy by investing in solar power technology, equipment and projects.