TerraForm Power, controlled by Canada's Brookfield Asset Management, has launched a 995 million euro ($1.2 billion) takeover bid for Spanish renewable energy firm Saeta Yield to expand its presence in Western Europe.
TerraForm is offering 12.20 euros per share for a 100 percent stake in the solar and wind power utility company, Saeta said on Wednesday.
The bid is a premium of 20 percent to Saeta's closing share price before reports of a takeover bid in January.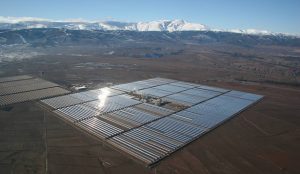 TerraForm sees the deal as an opportunity to improve its presence in Western Europe and increase its asset portfolio by 40 percent, the company said.
Saeta's main shareholders, Spanish construction company ACS, headed by Real Madrid Chairman Florentino Perez, and U.S. fund Global Infrastructure Partners, which both hold 24 percent stakes, have agreed to sell their holdings.
TerraForm said the deal would be financed with a $400 million equity offering backed by Brookfield. The Canadian alternative asset manager owns a 51 percent stake in TerraForm.
Saeta operates solar thermal plants in Spain and wind farms in Spain, Uruguay and Portugal. Last year, its installed capacity surpassed 1 gigawatts (GW).