The University of South Australia (UniSA) on Tuesday celebrated the launch of a research site for concentrated solar technology, where Aussie firms Precision Components and Heliostat SA will work to design a stronger heliostat and wi-fi control.
The Concentrated Solar Research Field in Edinburgh, Adelaide has 25 heliostats of 7.2 sq m each and a 15-metre tall concentrated solar photovoltaic (PV) receiver. It can produce about 30 kW per hour.
The project employs "an innovation in thin film coating design", UniSA explained, saying that it is based on the same research that delivered the world's first fully plastic automotive mirror.
Heliostats in such solar parks have to be able to survive high and low temperatures, rain, UV light exposure and abrasion by sand. Peter Murphy, lead researcher at UniSA's Future Industries Institute, said that to be really effective, these mirrors need to have a lifetime of 25 to 30 years, which presents various challenges at a macro and nano scale.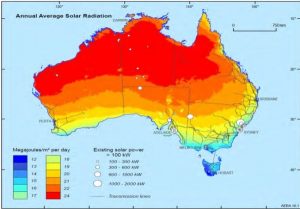 "Our goal now is to use this facility for R&D so that we can design and prototype a better heliostat and a system with remote wi-fi control," Murphy explains, adding that the long-term goal of the research field project is to build tough, ultra-high reflectivity mirror coatings on polycarbonate so that heliostats will be lighter and more efficient, and will also stay cleaner for longer.
Precision Components, which previously worked with the automotive industry, considers its involvement in the Concentrated Solar Research Field project as an important step in its diversification strategy that will help safeguard the future of the business and open jobs for South Australians, commented Mat Fitch, Director of the company.
Heliostat, which designs and makes technologies for the concentrated solar power and for the PV tracking sectors, has a plan to develop a AUD-1.6-million new tracking system.
renewablesnow.com