Are you looking at solar thermal power (Concentrated Solar Power) industry?
How about Middle East & North Africa (MENA) region?
Well known of the MENA super CSP projects like…?
100MW Shams 1 Parabolic Trough in Abu Dhabi
510MW NOORo CSP complex in Morocco
700MW NOOR Energy 1 CSP complex in Dubai
50MW Shagaya CSP plant in Kuwait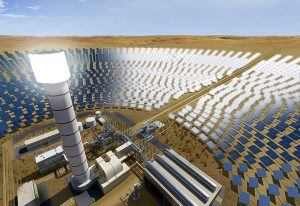 What are the future plans for CSP?
Who play the leading role there?
What's going on with CSP applications like ISCC, EOR, desalination…?
What's the position of my company in MENA CSP?
How to enter the market with high and accurate pace?
……
☟
☟
CSP Focus 4-day event this June in UAE
bring you a can't missing opportunity to get deep touch with MENA CSP
☟
☟
Take a view on the schedule:
June 24-27, Monday-Thursday, Dubai & Abu Dhabi
June 24 Monday丨Abu Dhabi
CSP Project Site Tour

Morning: Masdar Institute Solar Platform, MISP
Afternoon: 100MW Shams 1 Parabolic Trough CSP Plant, first large-scale CSP project in MENA
June 25 Tuesday丨Dubai
Key CSP Company Visit

Morning: ACWA Power, Dubai Office
Afternoon: Shanghai Electric, Dubai NOOR Energy 1 Project Office
June 26-27 Wed. & Thur.丨Dubai
4th CSP Focus MENA 2019 Conference & Expo
As the unique professional event for global CSP peers focusing on MENA region, CSP Focus MENA will also have most of the key players to present:
MENA: Saudi Electricity Company, MASEN, Shams Power, REPDO, KISR, Egypt New and Renewable Energy Authority
EU&USA: Abengoa, SENER, ENGIE, Empresarios Agrupados, TSK Flagsol, BrightSource Energy, EDF
China: Power China, China Shipbuilding New Power, SEPCO3, SUPCON Solar, Royal Tech CSP
Detailed introduction of the event:
Masdar Institute Solar Platform, MISP
Managed by Khalifa University of Science and Technology, allows for concentrating solar power and thermal energy storage technologies to be developed on a wider scale by providing access to high-performance CSP research and demonstration infrastructure.
A 20-metre-high tower is surrounded by a solar field of 33 heliostat mirrors in three concentric rings which adjust their angle to track the movement of the sun while directing the reflected light to the top of the tower. Lining the top of the tower is a 45-mirror array which redirects the light from the heliostats towards a receiver at the tower's base. The facility is being used to test reflector technologies, absorbed tubes, heat transfer fluids, mirrors and a variety of components used in the CSP industry.
* Mr. Nicolas Calve, Assistant Professor of Khalifa University and Chair of the Masdar Institute Solar Platform will be speaking at CSP Focus MENA 2019 Jun.26-27.
100MW Shams 1 Parabolic Trough CSP Plant
Shams 1 was the largest renewable energy project in operation in the Middle East when launched in 2013, and the first large-scale CSP plant inthat region.
It occupies 2.5 square kilometersand has a capacity of 100 megawatts. The solar field has 768 parabolic trough collectors to generate clean, renewable electricity.
Shams 1 directly contributes toward Abu Dhabi's target of 7 percent power-generation capacity via renewable energy by the year 2020. The plant also is helping the United Arab Emirates diversify its energy mix and reduce the country's carbon footprint. The plant displaces about 175,000 tons of carbon dioxide per year, which is equivalent to planting 1.5 million trees or removing 15,000 cars from Abu Dhabi's roads.
* The project owner Shams Power Company senior executives led by General Manager Majed Al Awadhi will be attending CSP Focus MENA 2019 Jun.26-27.
ACWA Power is the developer, investor and operator of power generation and desalinated water plants with 51 assets in operation, construction or advance development across 11 countries.
The CSP references of ACWA in MENA region includes: 700MW+250MW NOOR Energy 1 solar power plant, Dubai, and 510MW solar complex in NOOR Ouarzazate, Morocco.
Shanghai Electric, Dubai NOOR Energy 1 Project Office
Shanghai Electric Group Co., Ltd, as one of the largest equipment manufacturing conglomerates in China, possesses key advantages in the comprehensive provision of modern equipment, complete equipment sets, and engineering works contracting. Since the 1990s, Shanghai Electric's sales revenues have ranked top 3 in the Chinese equipment manufacturing industry.
Shanghai Electric is the EPC turnkey contractor of 700MW+250MW NOOR Energy 1 CSP plant, Dubai. And the Dubai branch is mainly responsible for the project implementation.
* The two companies will be presenting CSP Focus MENA 2019 Jun.26-27 as Supporting Partners and Speakers.
Related news: ACWA, Shanghai Electric lead the processing of Dubai 950MW CSP-PV NOOR Energy 1 Project
4th CSP Focus MENA 2019 Conference & Expo
Brief Agenda—Day1 June26
Achievements and Future Projects in MENA CSP Markets
Advantages, Challenges and Potential Solutions for CSP's Development in MENA Countries
Hybrid Plants with Energy Storage
Benchmark Project Updates and Experience–NOOR Midelt, NOOR Energy 1, Shagaya Project, Duba 1 and Waad Al Shamal ISCC project…
Brief Agenda—Day2 June27
Strengthen CSP Competitiveness Together with China's Efforts
Increase CSP's Bankability
Innovation and Advanced Technology Research
Small Scale and Solar Thermal Utilizations
Registration as normal delegate, exhibitor or speaker are going on
Click to get the full brochure of CSP Focus MENA 2019