Researchers at King Saud University (KSU) in the Kingdom of Saudi Arabia (KSA) have developed, engineered, and built an innovative and low-cost system of concentrating solar collectors.
Researchers at King Saud University (KSU) in the Kingdom of Saudi Arabia (KSA) have developed, engineered, and built an innovative and low-cost system of concentrating solar collectors that is currently being tested at the KSU campus in Riyadh prior to commercialisation.
Their Point Focus Fresnel Collector (PFFC) technology has a strong potential to provide a highly efficient and cost-effective solution for a wide range of applications. It addresses specific needs in the region such as carbon free power generation, as well as power for water desalination, process heat, district cooling and oil-saving air-condit¬ioning in residential and commercial buil¬dings. Moreover, it can be employed on a residential or industrial scale. "We appreciate and highly value the progress made by the researchers at KSU and by our esteemed Saudi Arabian industry partners. They are driving forward the generation of clean power for Saudi Arabia's domestic needs by developing their own concentrating solar-thermal (CSP) technology with a high proportion of content 'Made in KSA'. Their work can help spur CSP's cost-effective utilization throughout the region", said Dr. Thiemo Gropp, Director of Germany-based DESERTEC Foundation.
In order to support the Kingdom's stated aim for generating power from renewable energy sources with viable, feasible, efficient, and sustainable solutions in response to the current and forthcoming needs in the country as addressed by KA-CARE in the Energy Mix for the country, the DESERTEC Foundation recently endorsed DESERTEC Power in KSA, a shareholders company whose activities will include the planning, realization, ownership, and likely the operation of power plants as renewable energy operations with focus on in-kingdom quality job creation and a high amount of locally manufactured parts and components.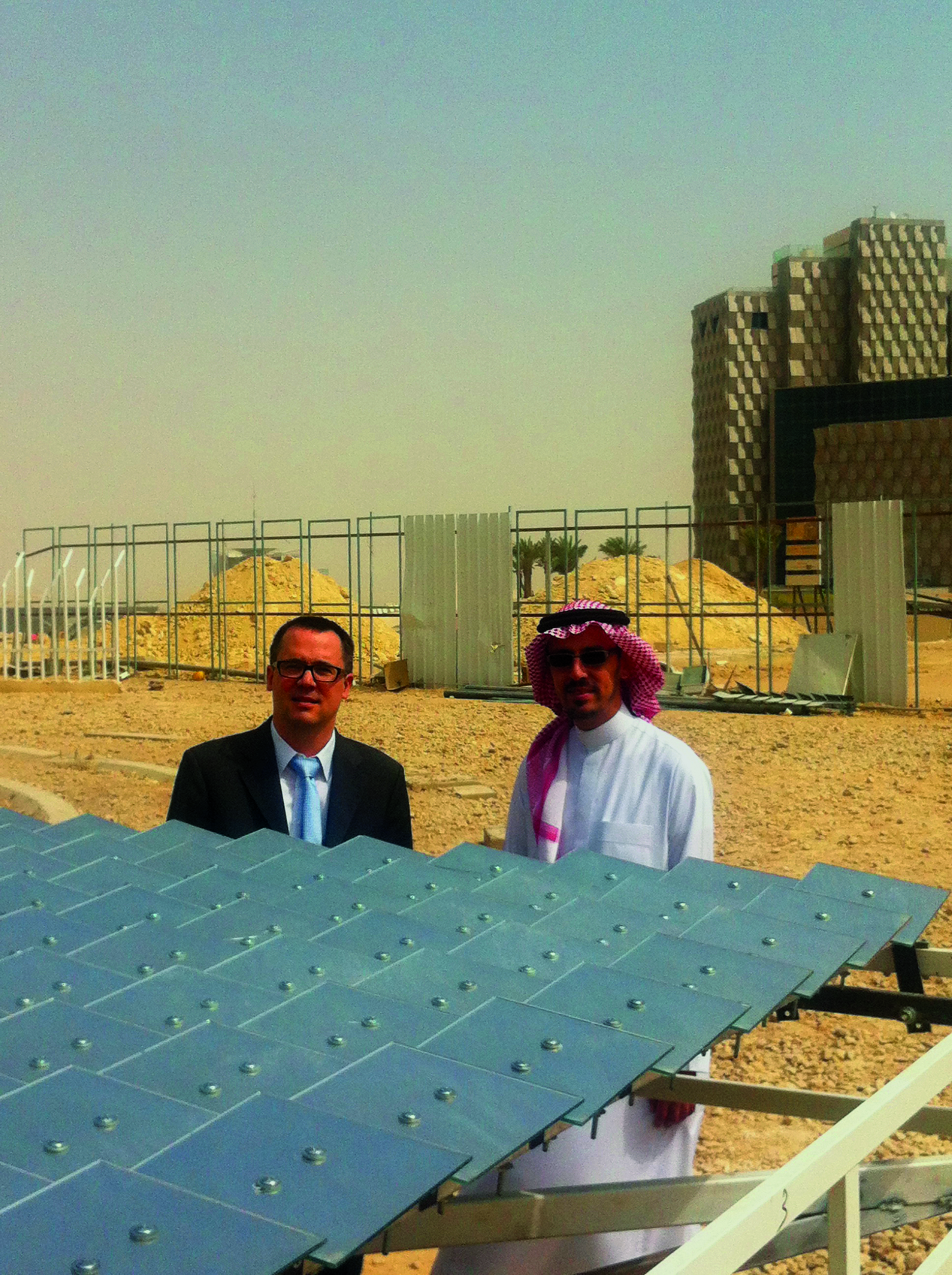 The PFFC concentrates the sun's rays by the use of flat, square mirrors that are positioned on a rotating surface. This surface and the specific way each row of mirrors is constructed allow them to follow the sun as it moves through the sky and concentrates its heat on the same point throughout the day. "We are very excited about the PFFC technology. Several years ago, we set ourselves the objective of designing a solar-thermal energy system that is cost-effective and entirely made within the region. We focused on significantly reducing cost in comparison to available technologies through increasing efficiency and other measures. However, the PFFC has exceeded all our expectations. We managed to build it both at low cost and with parts 'Made in KSA'. Of course, there is still a long way to go, but we are more than satisfied with the first prototype" said Professor Hany Al-Ansary, a KSU researcher and Chairman of the Mechanical Engineering Department in the College of Engineering at KSU.
Advantages of the technology:

High conversion efficiency
Early tests have shown that a conversion efficiency of 70-75% can be achieved at a temperature of 400 °C, making the PFFC conversion-efficiency comparable to that of parabolic trough collectors.
Local content manufacturing
Components at the KSU-campus test facility are "Made in KSA" according to the design specifications of KSU researchers. All PFFC components can be manufactured in KSA. This technology could contribute to the national economy by localizing technology, engineering, and manufacturing of most, if not all, of the parts.
Modularity for installation and maintenance
The PFFC design is inherently modular. It can therefore be deployed in small-scale and large-scale industrial applications. This modularity also allows the system to be installed on rooftops, which means more efficient land use.
Efficient land use
The mirrors comprising the PFFC are packed closely, focusing sunlight on a central horizontal target, and resulting into the collector being more efficient than the existing CSP technologies.