The project EPC contractor Shanghai Electric releases another milestone news for Dubai Mohammed bin Rashid Al Maktoum Solar Park Phase IV solar power hybrid project–950MW Noor Energy 1 CSP-PV Project, that the 100MW Concentrated Solar Power tower plant has completed the foundation of the Solar Tower last week on March 7th, 2019.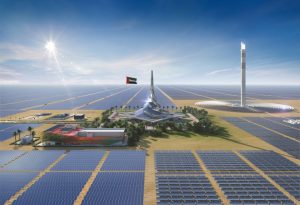 The 100MW solar tower plant is part of Noor Energy 1 CSP-PV Project, which is comprised of one 100MW solar tower CSP plant, three 200MW parabolic trough CSP plants and one 250MW solar PV plant, with a total capacity of 950MW. Shanghai Electric signed the EPC contract with the project developer ACWA Power last year.
Since the day of starting construction at the end of last year in 2018, the project has entered the "construction acceleration" mode. Even before and after the Chinese Spring Festival, several project teams of Shanghai Electric also worked overtime on the construction of the project. The whole project is expected to be completed in the year of 2021.
DEWA IV project entails an investment of 4 billion dollars and breaks a number of records. Another remarkable feature of the project is that it produces the cheapest known kWh, at a cost of 7.2 cm per dollar. With regard to its dimensions, the solar park has a surface area of 3,750 hectares, equivalent to 6,200 football pitches. In addition, the central tower is the tallest of all the solar plants built up to now, reaching a height of 260 metres.