GlassPoint Solar, the leading supplier of solar to the oil and gas industry, has celebrated the successful completion of one million man-hours without a lost time injury (LTI) on the Miraah solar plant being built for Petroleum Development Oman (PDO).
Miraah, a 1,021 MW solar thermal project, will be one of the world's largest solar plants, delivering over one gigawatt of peak thermal energy.
This achievement is a result of GlassPoint's commitment to safety and the adoption of oil and gas industry best practices.
It is also a reflection of the excellent performance of employees across the company and its contractors.
"Our solar thermal technology was designed from the ground up to minimise risks at each stage of construction. One million hours with zero LTIs is a significant achievement as Miraah advances towards the generation of first steam this year," said Ben Bierman, Chief Operating Officer from GlassPoint.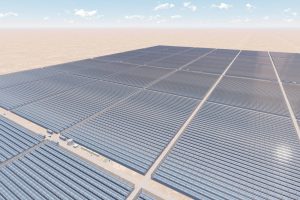 PDO cluster projects manager Hassan Al Lawatai said: "Central to achieving one million hours with zero LTIs on Miraah has been GlassPoint's focus on skills and safety training. This is especially important when handling and installing acres of glass panels and the lightweight mirrors, which was completely new to our local contractors."
GlassPoint began working with PDO on a pilot plant to test the commercial viability of using solar generated steam for heavy oil extraction.
Once complete, the facility will generate 6,000 tonnes of solar steam per day, delivering a significant portion of the steam requirements at PDO's Amal oilfield.