Shams 1 Concentrating Solar Power features a dry-cooling system that significantly reduces water consumption – a critical advantage in the arid desert.
UAE has completed the first phase of its ambitious solar power project to provide clean energy to around 20,000 homes. Its President Sheikh Khalifa bin Zayed Al Nahyan inaugurated the Shams 1 concentrated solar energy plant in Abu Dhabis western region, being described as the largest concentrated solar power plant (CSP) in operation in the world.
Connected to the electricity transmission grid, it will produce 100 MW of power, sufficient to provide clean energy to around 20,000 homes. "The inauguration of Shams 1 is a major milestone in our country's economic diversification and a step toward long-term energy security," Sheikha Khalifa said in a statement released on the UAEs official news agency WAM.
The Shams 1 plant, he said, "is a strategic investment in our countrys economic, social and environmental prosperity… The domestic production of renewable energy extends the life of our country's valuable hydrocarbon resources and supports the growth of a promising new industry".
The CEO of state owned energy firm Masdar, Sultan Ahmed Al Jaber, who is also a Minister of State, said Shams 1 is a breakthrough for renewable energy development in the Middle East.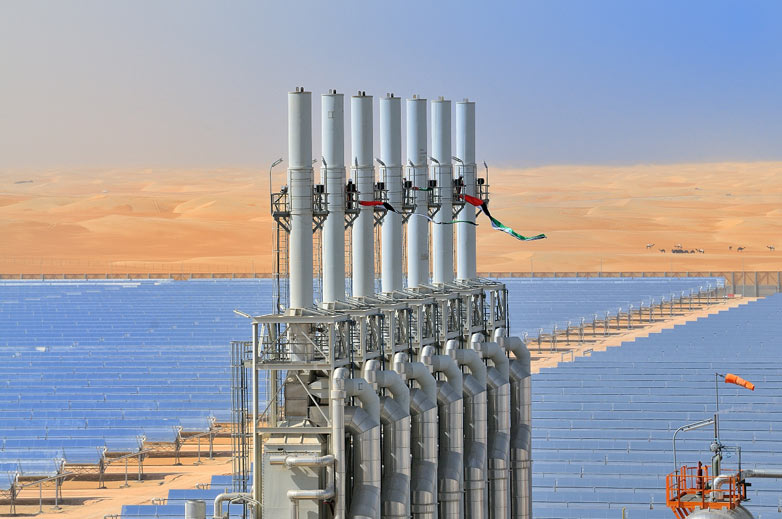 He said it contributes to maintaining the position of the UAE as a constructive force for stability and development.
"With the demand for energy rising exponentially, the region is undergoing a major transformation in how it generates electricity,"Al Jaber said.
Covering an area of 2.5 km – or 285 football fields – Shams 1 incorporates the latest in parabolic trough technology and features more than 258,000 mirrors mounted on 768 tracking parabolic trough collectors.
By concentrating heat from direct sunlight onto oil-filled pipes, Shams 1 produces steam, which drives a turbine and generates electricity.
The project uses a booster heater to heat steam as it enters the turbine, dramatically boosting the cycles efficiency.
http://english.manoramaonline.com