The specific perovskite composition considered herein is CaAl0.2Mn0.8O2.9-δ (CAM28), where the A-site cation is Ca, and the B-site is shared by Al and Mn. Reduction extents as large as δ = 0.322 have been measured for this material, and are reported alongside reaction enthalpies, which vary a function of reduction extent (Babiniec et al., 2015a).
Thermodynamic Model Development
The one-dimensional thermodynamic model consists of nine system components including five power tower components (solar receiver, hot storage, reoxidation reactor, cold storage, and heat exchanger), two auxiliary components (vacuum pump, particle lift), the solar field, and power block. The Supplementary Material presents the full set of 154 thermodynamic equations for these components; we summarize them herein. We developed computational procedures in Python with fluid thermodynamic properties taken from CoolProp (Bell et al., 2014). We developed a separate model of the power block in Engineering Equation Solver (EES) to validate results against available manufacturer values and theoretical limits.
System Overview
Figure 1A provides a conceptual illustration of the process in which the solar field reflects and concentrates direct normal irradiance (DNI) into the solar receiver reduction reactor (SR3). Gravity feeds oxidized particles through the SR3 where they are heated and endothermically reduced. A pump expels evolved oxygen and maintains a partial vacuum, and hence low oxygen partial pressure, in the SR3. Reduced particles exiting the SR3 can be stored in an insulated hot storage bin. Gravity feeds reduced particles from the hot storage bin into the reoxidation reactor (ROx) to come into direct contact with pressurized air (via the gas turbine compressor) flowing counter-current to the particles (Supplementary Figure S2). The resulting heat transfer and exothermic reoxidation reaction effectively increases the air to a temperature approaching 1,200°C. Heated air exiting the ROx flows to a combined cycle power block for electricity generation. Reoxidized particles can be stored in cold storage or sent back to the SR3 using a particle lift to repeat the thermodynamic cycle. A recuperating heat exchanger between high-temperature oxygen exiting the SR3 and low-temperature reduced particles entering the SR3 is included as to improve system efficiency and partially cool the O2.
FIGURE 1. (A) Conceptual diagram of the CSP/TCES system (Miller and Gill, 2020), and (B) accompanying schematic indicating mass and energy flows for the four major subsystems: solar field, power tower, power block, and auxiliary power.
A quasi-steady state thermodynamic model has been developed for the process. Figure 1B depicts the associated block diagram of components and mass and energy flows. Each component has input and output states that are solved directly or through iterative computation (e.g., the oxygen and particle streams between the SR3 and heat exchanger components are interdependent). High-temperature particle receivers for PROMOTES and other applications remain in developmental, pre-commercial stages (Muroyama et al., 2015; Ho, 2017). However, for demonstration purposes, a reactor was developed wherein particles were directly irradiated as they flowed down an inclined plane (see, for example, Schrader et al., 2020).
Therefore, the SR3 model is simplified to a concentric cylindrical geometry with adequate size for an inclined plane (Supplementary Figure S3). There is interior cavity for particle flow, cavity insulation, evacuated space, and then exterior shell for maintaining structural integrity, along with a quartz window. The ROx model is a set of cylindrical pipes in which falling particles and rising air come into direct contact to undergo simultaneous chemical and sensible heat exchange.
Thermodynamic Input Data
Table 1 provides the characteristics for the CAM28 particles. Molar mass (Mp
) was determined from the molecular formula and specific heat was taken from experimental measurements (Coker et al., 2016). Particle diameter (Dp) was chosen as 130 microns, which is between the 100 and 150 microns suggested by a corresponding computational fluid dynamics (CFD) model of the ROx reactor (Babiniec, S.M., personal communication, 2018). Particle reduction was assumed to occur at 1,125°C and 200 Pa, resulting in a reduction extent (δ) of 0.2367 (interpolated from experimental measurements).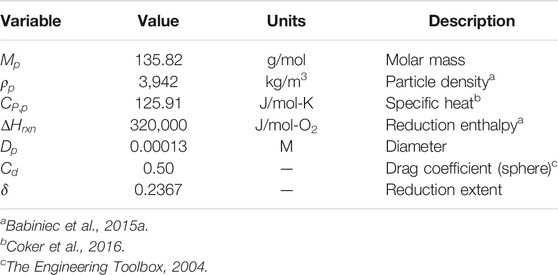 TABLE 1. CAM28 particle characteristics.
Nine of the mass flow streams shown in Figure 1B have fixed temperatures (given in Table 2), while other state point temperatures varied during calculations. The corresponding CFD model of the ROx indicated that particle outlet (T2) and oxygen outlet (T8) temperatures from the SR3 should be set to 1,125°C for the ROx to achieve 1,200°C for air turbine inlet temperature (T12). ROx particle outlet temperature (T5) is set equal to ROx air inlet temperature (T11) as a simplifying approximation. Compressor air inlet temperature (T10) is set to ambient. Turbine air exhaust temperature (T13) is set using manufacturer specifications of the gas turbine of the Ansaldo Energia AE64.3A combined cycle engine (Ansaldo Energia, 2013). Air inlet (T11) and air outlet (T12) temperatures about the ROx correspond to AE64.3A compressor outlet and turbine inlet temperatures, respectively, as evaluated using the EES model described in Supplementary Material. Nitrogen (T14) and air (T16) are assumed to enter hot storage and cold storage, respectively, at ambient temperature to maintain atmospheric pressure and isolating the reduced particles from air and premature reactive discharge.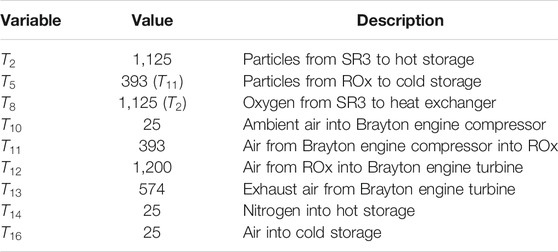 TABLE 2. Fixed temperatures (°C).
Table 3 provides input values for the ROx, SR3, heat exchanger, particle lift, vacuum pump, hot storage, and cold storage components. Air pressure (PROxcomp) and molar flow rate (n˙ROxair) through the ROx are set equal to parameters given from the AE64.3A gas turbine specifications (Ansaldo Energia, 2013). Total particle residence time (tROxr) within the ROx is approximated as the sum of residence time for particle reoxidation (tROxox) and residence time for sensible energy exchange (tROxex
) to reach ROx boundary states. A lumped-capacitance model of a falling particle in the ROx provide an approximate residence time for sensible energy exchange. This results in a total particle residence time of 4 s, comparable to the 3.6 s of the corresponding CFD model of the ROx.
TABLE 3
Thermal loss calculations for the ROx, SR3, hot storage, and cold storage use the conduction, convection, and radiation parameters given in Table 3. The ROx (kROxins
, tROxins) and SR3 (kSR3ins, tSR3ins) insulation material is 1.5 inches of Zircar's RSLE-57 (ZIRCAR Refractory Composites, Inc., 2005), a reinforced silica matrix composite used in similar high-temperature receivers for its durability at high temperatures (Christian and Ho, 2016). The SR3 main body (kSR3body, tSR3body) is 1.0 inch of 304 stainless steel (Aerospace Specification Metals, Inc. AISI Type 304 Stainless Steel) rather than HD board reported elsewhere (Christian and Ho, 2016) as additional structural support was assumed necessary. The SR3 ratio of the cavity's interior surface area to aperture area (γlr
) is taken as a design choice and evaluated further in sensitivity analysis.
The solar field efficiency (ηsf
) uses the midpoint of reported annual average values of 52 and 64% (Ehrhart and Gill, 2013; Eddhibi et al., 2015). The SR3 has a minimum operating DNI (DNIco) of 350 W/m2 as a conservative estimation, whereas 300 W/m2 was used elsewhere (Zhang et al., 2010). The solar flux at the receiver aperture (Favg) assumes a concentration ratio of 2,000 suns (Zhang et al., 2013); i.e., 2 MW/m2 at the design point DNI (DNIdp). Calculations assume a conservative 1 m diameter for the SR3 quartz window (Dwin); values up to 1.7 m diameter have been reported in designs for some high-pressure receivers (Karni et al., 1998; Saung and Miller, 2014). The electric-to-mechanical efficiency of the particle lift (ηlift) is assumed similar to mine hoists (de la Vergne, 2003), and the electrical efficiency of the vacuum pump (ηpump
) is set to 40% (see Supplementary Material Section 7).
Hot (kHSins
, tHSins) and cold (kCSins, tCSins
) storage insulation includes a combination of firebrick, perlite concrete, and reinforced concrete (El-Leathy et al., 2014; Ho et al., 2014) that have thermal conductivities of 0.21–0.57 W/m-K, 0.078–0.35 W/m-K, and 0.99–1.10 W/m-K, respectively, at high temperatures (Christy Refractories, 2004; Kanbur et al., 2013; Perlite Institute, Inc., 2014). Table 4 provides layer thicknesses alongside costs. Overall, thermal conductivity for storage insulation was approximated as 0.5 W/m-K, a conservative estimate relative to 0.31 W/m-K calculated for the firebrick, perlite concrete, and reinforced concrete layers in series.
TABLE 4
Thermodynamic Performance Metrics
Performance was evaluated using annual system efficiency and capacity factor averages of time series simulations. Simulations of system operation are indexed into discrete time increments (minutes, 15-minutes, hours, etc.) using i
with 1 and ζ corresponding to the first and last indices, respectively, of the simulated year (e.g., ζ=8760
when using hours). If the simulated time step resolution is finer than the DNI data set's resolution, the simulated time indices use repeated DNI values (instead of interpolated) that correspond to their time period in the DNI data set (e.g., all simulated time indices in hour 1 use the DNI value corresponding to hour 1). High resolution time stepping simulates a more continuous dispatch schedule that avoids the problem of discarding an entire hour if storage or dispatch limits would be exceeded within that hour increment; i.e. it reduces spillage. Annual generation increases by up to 11% when using 5-min time steps and up to 10% when using 10-minute time steps at small storage sizes (e.g., 2 hours) relative to hourly time steps. Computational cost increases significantly when increasing time step resolution from 10-minute to 5-min time steps but yields negligible thermal performance increase for storage sizes larger than 4 hours. Therefore, performance simulations reported here employ 10-minute time steps.
Annual average system efficiency (ηsys¯¯¯¯¯
) is calculated using Eq. 2 as the product of the annual average efficiencies of four subsystems as given in Eqs 3–6. Annual average solar field efficiency (ηsf¯¯¯¯) from Eq. 3 is less than rated efficiency (ηsf) due to the lower bound DNI cutoff value and losses due to spillage. Annual average power tower efficiency (ηpt¯¯¯¯) is calculated using Eq. 4 as the net thermal energy input to the air Brayton turbine divided by the net thermal energy input to the SR3. This quantity also accounts for changes (from losses) in energy storage of the hot and cold storage bins from the initial hour of operation to the last hour of operation. Annual average power block efficiency (ηpb¯¯¯¯) is calculated using Eq. 5 as the ratio of the annual net electric generation to the thermal energy input to the air Brayton turbine. Annual average auxiliary subsystem efficiency (ηaux¯¯¯¯¯¯) is calculated using Eq. 6 as 100% minus the ratio of annual electricity used for work (particle lift and vacuum pump) to the annual net turbine electric generation. System capacity factor (CFsys
) is calculated using Eq. 7 as the summation of the actual net electricity generation for the year divided by the maximum electricity generation at full capacity for a year.
Economic Model Development
A validated cost model populated with component sizes from the thermodynamic model gives estimates for the initial capital costs, operating and maintenance costs, and LCOE of the full-scale CSP system. Applying the model to the Ivanpah CSP power plant provided the validation. (See Supplementary Material Section 3.4).
Economic Input Data
Table 4 summarizes parameters applied to estimate the total installed project cost and LCOE of the CSP system described herein. The values in the table are from manufacturer data, historical cost data for installed CSP plants, and engineering estimates when necessary. We performed sensitivity analysis to assess the relative impact of different assumptions on total capital cost and delivered energy cost.
Economic Performance Metrics
Component costs are estimated beginning with an independent variable (e.g., component size), then applying the cost parameters in Table 4 as well as scaling functions (e.g., linear relation or power law), and cost multipliers (e.g., setting, piping, electrical, owner's cost, and contingency) (Table 5). Multipliers account for added services or parts such as electrical, piping, fabrication, and setting.
TABLE 5
The installed costs of most components (Ccom
), with exception of the power block and tower, scale linearly (although not necessarily proportionally) as a function of scale parameter (Csp), fit constants (Asp, Bsp), and total cost multipliers (CM=1+multipliers
) shown in Eq. 8.
The cost of hot storage include five insulation layers that are costed independently as illustrated in Eq. 9, where V0
= Vhs
.
Costs of the tower and power block scale with a power law as shown in Eq. 10.
The balance of plant is estimated based on the power rating (PR
), the balance of plant for steam (Bps), the percent of power generated from the steam engine (Pst), and the balance of plant scale factor (Bpsf
) as shown in Eq. 11.
The total capital cost (Ctca
) is a function of the cost of components (Ccom), the balance of plant (Cbp), the cost of controls (Ccontrol=Fcontrol⋅∑(Ccom)), owners' cost (Cown), and contingency (Ccon
) (Eq. 12). In this context, controls refer to the electronics needed to control and operate the entire plant.
The LCOE in ¢/kWhe is calculated using Eq. 13 as a function of total annual cost of operation and maintenance (CO&M
), Ctca, weighted average cost of capital (WACC), cost of material replacement per year (Crep = Frep⋅Cpa) estimated to be a fraction of the particle inventory replaced per year, and electrical production (Ep
) in kWhe/year of the model accounting for parasitic losses.
Simulation Procedures
A high-level illustration of the three-step technoeconomic analysis is provided in Figure 2 with detailed procedural summaries and equation sets given in Supplementary Information. Step one sizes each component using the DNIdp
, component specifications, and characteristics of CAM28 particles. State values for the 29 stream are also calculated at the DNIdp
. Step two simulates plant production over a one-year period using DNI typical meteorological day (tmy3) data from Barstow (Daggett), California, USA (National Renewable Energy Laboratory, 2008). Power dispatch occurs based on solar availability and particle availability in the hot or cold storage bins. Step 3 is a financial analysis that calculates the balance of plant costs and total annual cost using design-independent assumptions, chemical engineering cost estimations, and SunShot targets for the solar field and O&M (Laird, 2011). While optimistic, well-documented roadmaps for achieving SunShot targets (U. S Department of Energy, 2012; U. S Department of Energy, 2017) have been developed. The System Advisor Model Version 2017, (SAM 2017.9.5) validated the results. Further details are included in supplementary Material. Lastly, independent parameters in each step are varied to assess the sensitivity on thermodyanic performance and cost.
FIGURE 2
Results
Component Sizes
Tables 6, 7 provide simulated state information for DNIdp
of 900 W/m2, SM of 1.8, and with the hot storage and cold storage bins initialized at half-capacity of particles. Particles displace a small amount of nitrogen from the hot storage bin while filling. Similarly, a small amount of air backfills the cold storage bin when removing particles. Table 8 provides component sizes calculated for the input values from Tables 1, 2, 3 with the energy balance and sizing equation sets detailed in Supplementary Material. The corresponding ROx CFD model (Babiniec, S.M., personal communication, 2016) provides four operational constraints that include the ROx pipe diameter (DROxh,ins) between 2 and 4 m, ROx pipe length (Lpipe) between 4 and 8 m, ROx particle outlet velocity exceeding 1 m/s, and total ROx surface area between 1,000 and 2,000 m2. These constraints are satisfied using 23 pipes (Npipe), each of diameter 2.80 m and length 5.12 m, and an average volume fraction (ϱROxp) of 0.03%. This ROx configuration supplies enough heated air to the power block to operate at rated power for 1 hour using 5,576,000 moles of particles. This amount scales to 33,456,000 moles of CAM28 particles (Np) and storage bins with an internal volume (VHS, VCS) of 1,953 m3 to provide 6 h energy storage. Solar field area at SM 1.0 (Asf1.0) is 477,203 m2. That, in turn, implies 858,965 m2 for a SM of 1.8. SR3 sizing results in 285 receiver units (Asf1.0
) each with a 1 m diameter window at 2,000 suns concentration, i.e., 2 MW/m2 and 1.57 MWth through each window at design point.
TABLE 6
TABLE 7
TABLE 8
Intraday Operational Behavior
Figure 3 shows example intraday operational behavior during three seasonally representative days taken from the tmy3 dataset (National Renewable Energy Laboratory, 2008). A detailed description of the data set is provided in the user manual (Wilcox and Marion, 2008). Representative days were chosen as those from each season whose DNI most closely matched the seasonal (astronomical) average calculated from the data set. This illustration shows the particle molar flow rate through the SR3 and ROx (left vertical axis) and the amounts of particles stored in the hot and cold bins (right vertical axis). Results are shown for the baseline system with 6 hours of energy storage and a SM
of 1.8. Power was dispatched when there were sufficient particles in hot storage (prior to charging from the SR3) to supply the power block for the time step. The system generated the rated power output of 111.7 MWe for 13.1 h on April 17 (1.46 GWhe), 16.7 h on June 14 (1.86 GWhe), and 8.2 h on March 12 (0.91 GWhe). The specified days in April and June utilized about 0.5 kWhth less irradiance than the values shown in Figure 3 due to the DNI cutoff, while the day in March utilized about 1.0 kWhth less for the same reason.
FIGURE 3
Annual Performance
Figure 4 documents the efficiency losses along the path from the incident solar energy to the electrical output for the baseline system. Examining the major components, the solar field receives 2,339.4 GWhth of incident solar radiation in the simulated year and experiences losses of 123.5 GWhth from the DNI cutoff, 930.6 GWhth from collection losses, and 45.8 GWhth from spillage losses. Thermal losses occurring in the SR3, hot storage, cold storage, and heat exchanger consume 288.0 GWhth of the 1,239.3 GWhth energy entering the power tower. The power block efficiency of 55.7% yields 530.2 GWhe of electric generation, with power for the particle lift and vacuum pump consuming a total of 49.4 GWhe to give 480.8 GWhe of exportable energy annually. Replacing the combustor with the ROx accounts for the higher-than-rated power block efficiency. Taken as a whole, this baseline system has an annual capacity factor of 54.2% and average system efficiency of 20.6%. Note that solar collection losses and power block conversion losses account for the greatest part of the total by far at 930.6 and 421.0 GWhth, respectively. The remaining losses (thermal equivalent) in decreasing order are SR3 heat and radiation losses (268.7 GWhth), DNI cutoff (123.5 GWhth), vacuum pump (84.5 GWhth, 47.1 GWhe), spillage (45.8 GWhth), oxygen exhaust (14.1 GWhth), storage losses (5.2 GWhth), and particle lift (4.1 GWhth, 2.3 GWhe).
FIGURE 4
System Sizing and Energy Cost
Figure 5 illustrates the combined impacts of particle storage capacity (2–14 h in 2-hour increments) and size of the solar field (SM
from 1.2 to 2.6 in 0.2 increments) on the annualized capacity factor, system efficiency, total capital cost, and LCOE. Further increases in storage capacity, e.g., to 16 h, increase capital costs with little change in capacity factor or system efficiency and thus increase LCOE relative to 14 hrs, and are therefore not shown for clarity in the figure. Figure 5.A shows that the annual electricity generation (capacity factor) has a maximum value for each value of SM. That is, for each value of SM, there is a limit corresponding to a specific storage capacity, after which, further increases in storage have no impact. The capacity factor assumes a single value of 369 GWhe (37.8%) for all storage values at a SM of 1.2. This limit then increases by up to 60 GWhe (6.0%) every 0.2 increment in SM with increasing amounts of storage required to reach the new limit. At the upper limits, 14 h storage and a SM
of 2.6, we calculate an annual generation (capacity factor) of 755 GWhe (77.2%).
FIGURE 5
System efficiency slightly increases for all storage sizes as SM
increases but then sharply decreases at higher SMs (Figure 5.B). The exception is the 2-hour storage case, which exhibits only the decrease. The initial increase with SM is attributable to increases in component utilization exceeding the associated losses. That is, for a given storage capacity, component efficiency initially increases with scale. The subsequent decreases at higher SMs are attributable to increased spillage and SR3 thermal losses. In other words, as the SM is increased, the system eventually becomes storage limited. Hence, from an efficiency point of view, there is an optimal SM for each fixed storage capacity, and vice versa. The maximum system efficiency of 21.6% was realized with both 12 and 14 h storage at a SM
of 2.0.
Total plant capital cost scaled about $6.5 million for every additional 2 hours of storage and approximately $23 million for every 0.2 increment in SM
(Figure 5.C). Each value of storage capacity yields a minimum value of LCOE at a different SM (Figure 5.D). The specific minimum values of LCOE are 6.91 ¢/kWhe (2 hrs, SM 1.4), 6.60 ¢/kWhe (4 hrs, 1.6), 6.37 ¢/kWhe (6 hrs, 1.8), 6.20 ¢/kWhe (8 hrs, 2.0), 6.08 ¢/kWhe (10 hrs, 2.2), 5.98 ¢/kWhe (12 hrs, 2.4), and 6.00 ¢/kWhe (14 hrs, 2.6). The overall lowest simulated LCOE of 5.98 ¢/kWhe is found for the 12 h storage system and has a corresponding capacity factor of 72.6%, system efficiency of 20.8% (ηsf¯¯¯¯=53.2%, ηpt¯¯¯¯=76.8%, ηpb¯¯¯¯=55.7%, ηaux¯¯¯¯¯¯=91.4%
), and a total capital cost of $467.8 million.
Figure 6 compares the cost breakdown for the baseline system (A) to the lower LCOE alternative with increased storage capacity of 12 h and a SM
of 2.4 (B). The lower LCOE alternative requires a larger total capital cost due to increase in component sizes and replacement costs. An increase in productivity from 530,519 MWhe/yr to 710,170 MWhe/yr offsets these expenditures, which results in a 0.39 ¢/kWhe decrease in LCOE.
FIGURE 6
Sensitivity
We performed sensitivity analyses for major design and economic parameters to assess impact on system performance and LCOE, respectively. We evaluated ten thermodynamic parameters and five economic parameters. The results highlight components of particular importance to the design and point to opportunities to decrease LCOE.
Influence of Design Parameters
Table 9 (upper portion) illustrates the impact of six different design parameters on capacity factor: system efficiency, total capital cost, and LCOE relative to the best case (12 h storage, SM
= 2.4, capacity factor = 72.6%, system efficiency = 20.8%, total project cost = $467.8 million, and LCOE of 5.98 ¢/kWhe). Not shown in the table are results for an additional four parameters: thicknesses of SR3 stainless steel body (tSR3body), ROx insulation (tROxins), hot storage insulation (tHSins), and cold storage insulation (tCSins
). Changes in these parameters of −/+ 50% of base values yielded less than 0.1% change in system efficiency and less than 0.01 ¢/kWhe change in LCOE.
TABLE 9
= SR3 particle outlet temperature, AHX= contact surface area in the heat exchanger, γcav = ratio of SR3 cavity interior surface area to aperture area, γlr = SR3 ratio of cavity length to cavity radius, Favg = Average flux density of the receiver aperture, tSR3ins
Of the six parameters in the table, reducing the ratio of the SR3 cavity interior surface area to aperture area, γcav
, by 50% gives the largest increase in system efficiency (0.6%), a 2.0% increase in capacity factor, and a decrease in LCOE of 0.35 ¢/kWhe. While lowering this variable reduces thermal losses about the SR3 due to less surface area of the SR3 interior, insufficient surface area can inhibit adsorption in the receiver, not considered in this analysis. More detailed calculations to optimize receiver efficiency relative to size is outside the scope of this effort. Reducing the particle outlet temperature, T2, by 50°C (thus also changing δ=0.2161, AHX=2,523, Asf1.0=467,150, Np=72,253,200, VHS=4,218, VCS=4,218, Lpipe=5.15, DROxh,ins=2.90) is the second most impactful change for efficiency we evaluated, increasing system efficiency by 0.6% and capacity factor by 0.4% while decreasing LCOE by only 0.04 ¢/kWhe. This change reduces thermal losses from the SR3, but low particle temperature increases the challenge in reaching the 1,200°C turbine air inlet temperature. Increasing the solar flux density, Favg, by 12.5%, i.e. increasing the energy entering the SR3, gives the third largest increase in system efficiency, 0.4%, with an accompanying increase in capacity factor of 1.3% and decrease in LCOE of 0.14 ¢/kWhe. Flux density is limited in practice by the optical precision and mirror quality of the solar field, and/or use of secondary concentrators, both of which carry cost implications not included in these evaluations. Reducing γlr by 50% achieves the fourth largest increase in system efficiency, 0.3%, with an increase in capacity factor of 1.2% and decrease in LCOE by 0.07 ¢/kWhe. This change decreases thermal losses from the SR3, but carries the same tradeoffs as changes to γcav. Increasing tSR3ins by 50% increased system efficiency by 0.2% and capacity factor by 0.6%, and decreased LCOE by 0.04 ¢/kWhe. Changes in AHX