TerraForm Power, Inc (Nasdaq:TERP) ("TerraForm Power" or the "Company") today announced that Spain's National Securities Market Commission ("CNMV") has confirmed a 95% acceptance of the Company's tender offer to acquire all of the shares of Saeta Yield, S.A ("Saeta" of "Saeta Yield"). The CNMV also set the closing date for the Company's acquisition of 95% of Saeta Yield for June 12. With greater than 90% of the shares being acquired, the Company will pursue a statutory squeeze out to procure the remaining 5% of the shares, which is expected to close on July 3.
"We are very excited about the positive response to our tender offer for this high quality renewable power company," said John Stinebaugh, Chief Executive Officer of TerraForm Power. "With 100% of Saeta's assets integrated into the TerraForm Power platform, we will be able to accelerate the realization of operational and financial synergies and will enjoy an expanded platform for growth in Europe."
Transaction highlights
Highly accretive transaction.  The acquisition is highly accretive to TerraForm Power, with returns on equity in excess of TerraForm Power's target.
High quality asset base in attractive target market.  Saeta's portfolio is comprised of 100% owned, recently constructed assets primarily in Western Europe, including 778 megawatts of onshore wind and 250 megawatts of concentrated solar, with an average age of six years and a remaining useful life in excess of 23 years.
Assets with stable and predictable cash flows.  100% of Saeta's revenues are generated under stable frameworks with investment grade counterparties.  Approximately 77% of Saeta's revenues are regulated under the Spanish renewable power regime with limited resource and market price risk.  The remaining 23% of revenues are under long term power purchase or concession agreements.  Saeta's revenues have an average remaining regulatory/contractual term of 14 years.
Multiple value levers.  TerraForm Power will have the opportunity to implement multiple value enhancing initiatives that can improve the overall cost profile of the business along with optimizing its capital structure.
Accelerates deleveraging of TerraForm Power's balance sheet.  The acquisition furthers TerraForm Power's long-term plan to establish an investment grade balance sheet and accelerates deleveraging of its corporate debt to cash flow ratio to within its 4.0x to 5.0x target.
Funding Plan
To satisfy the $1.2 billion total purchase price, TerraForm Power intends to execute a funding plan comprised of the following sources:
A private placement of $650 million of its Class A stock with its sponsor Brookfield Asset Management ("Brookfield") or its affiliates at the previously agreed back-stop price of $10.66 per share;
The remaining $550 million will be financed with available liquidity, which the Company intends to refinance with a combination of project financings of its unencumbered assets and cash to be released from Saeta's assets.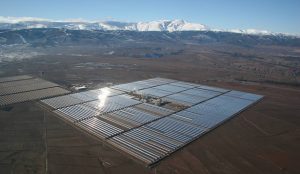 TerraForm Power owns and operates a best-in-class renewable power portfolio of solar and wind assets located primarily in the U.S., totaling more than 2,600 MW of installed capacity. TerraForm Power's goal is to acquire operating solar and wind assets in North America and Western Europe. TerraForm Power is listed on the Nasdaq stock exchange (Nasdaq: TERP). It is sponsored by Brookfield Asset Management, a leading global alternative asset manager with more than $285 billion of assets under management.