As the concentrated solar power industry turns its attention to the Middle East and North Africa, CSP Today is hosting a webinar to discuss the opportunities on 12 February 2013.
Expectations are high that the Middle East & North Africa will be a key future market for CSP technology. The contrast between traditional markets around the world hitting roadblocks and recent publicised progress of plants such as Shams One (UAE) and Ouarzazate (Morocco) was highlighted in CSP Today's recent guide to the region.
Industry analysts have highlighted that cost reduction is key to the success of CSP in MENA, as the generation cost needs to be low to compete with subsided energy prices. High initial investment costs have deterred interest, but the value of dispatchability is starting to change this.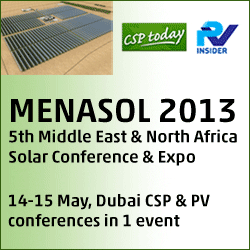 To discuss the wide-ranging questions of CSP cost and feasibility, CSP Today has organised a free webinar, taking place on Tuesday 12th February at 08.00am GMT / 09.00 CET / 12.00 GST.
Luis Crespo, President of ESTELA and Mohammed Abutayeh, Mechanical Engineering Department at KUSTAR will join Belen Gallego, Founder & Director at CSP Today for the 60 minute session to debate and discuss the following topics:
The status of the MENA markets and a focus on Saudi Arabia, using exclusive data from the CSP Today Global Tracker
A comprehensive cost analysis of CSP technology
A detailed exploration into hybridisation and integrated solar combined cycle options
The webinar can be joined for free at by following the link below, and with limited spaces available it is advised that you sign-up early. Sign up here:
https://www3.gotomeeting.com/register/879140814